Introducing new and improved, top of the line
Benchtop Reactors
by Goldleaf Scientific
Goldleaf Glass Reactors are made with the ideal chemical resistant borosilicate glassware and ptfe seals for a wide range of applications. Engineered for a user friendly and efficient performance with a sturdy, easy to assemble stainless steel frame and digital stir controller for precise RPM's. 
Single jacket layer allows for use with recirculating heater or chiller for experiments that need a temperature controlled environment. High quality glassware allows for a wide temperature range from -90°C to 240°C. 
Customization options available; change joint sizes, design condensers, and create manifolds that perfectly fit your facility. 
Our in house, USA based glassblowing studio allows for quick turn around time on custom orders and repairs. 
Call us with any customization requests. (510)487-1390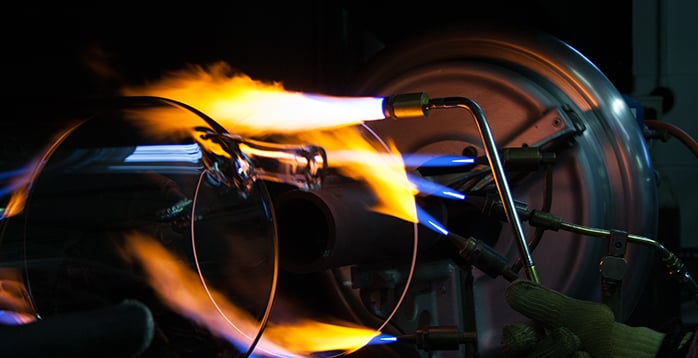 Specs:
Sizes available: 500ml - 5 Liter
Temperature Range: -90°C to 240°C
Single Jacket for Temperature Control
Multi-Port Lid
Reflux Condenser
Feed Funnel
Stainless Steel Stand
110-120V 60Hz
Item
Details

Glass Materials

High Borosilicate Glass 3.3

Wetted Parts

Glass and PTFE

Reaction Vessel Capacity

300ml, 500ml, 1L, 2L, 3L and 5L

Thermal Jacket

Ring Baffles within the Thermal Jacket

Stirring Motor

DC Brushless Motor, 50W, 100W, 150W

Stirring Range: 50 ~ 2200 RPM

 

Realtime Display: 

1) Current Stirring Speed

2) Set Stirring Speed

3) Timer

3) Materials Temperature

4) Torque

 

RS485 Communication

Mixing Sealing

PTFE + Mechanical

Condenser

Cooling Coil Condenser

Dropping Feeding Funnel

Dropping Feeding Funnel with PTFE Metering Valve and Equalizing Arm

Glass Lid

5 Openings:

1) Dropping Feeding Funnel: 24/40

2) Pressure Release (or Round-Top Funnel): 24/40

3) Materials Temperature Probe: 24/40

4) Condenser: 24/40

5) Stirring: 50# (Flange)  or  29/42

Stirring Impeller

PTFE Anchor Type

PTFE Pitched Paddle Type

PTFE Frame Type

Operating Temperature

-90℃   to  +230℃

ΔT - Thermal Shock Resistance

90℃ (Double Wall),  60℃ (Triple Wall)

Operating Pressure

Full Vacuum to Atmospheric Pressure

Operating Jacket Pressure

Up to +0.5 bar (0.05 MPa)

Power Supply

100V ~ 240V, 50Hz/60Hz 
*Call or email for availability and additional equipment options (510)487-1390 | [email protected]*