The "Gemstone" Series Short Path
The most unique scientific glassblowing creation in the last 50 years.
Channeled tubing gives a distinct gemstone optical effect and increased surface area. Other outdated designs incorporate inflated bulbous sections or rings to increase the surface area, such as an Allihn condenser, which leads to reduced flow and oil being trapped in small crevices.
We found that
channeled tubing has a larger inner surface area
than standard glassware without the need for rings or bulbs. 
The channels also reduce vortexes, eddies, and other flow distortions which creates a more laminar flow. This allows more contact between the materials for greater overall separation and speed, adding some extra condensing power to the system.
100mm diameter path throughout the distillation column creates a much faster flow, lower vacuum levels, and reduces flooding and clogging. Optimized specifically for distilling viscous materials. 
A Schott Flange replaces the standard, conical tapered joints that were prone to thermal heat loss and often caused oil to condense right above the boiling flask, creating a choke point that greatly restricted flow.
Larger opening allows users to reach inside and properly clean the boiling flask, preventing any carbon build up and contamination. 
The reflux cup at the top of the column keeps oils from falling back down into the boiling flask, which would would mean those oils need to be re-distilled over and over again.
The Jacketed Pistol Receiver is a vacuum take off valve that replaces standard swing arms or cow's, so removing collection flasks and changing fractions is much easier, eliminating the need of releasing vacuum to the entire system to switch flasks.
The jacket on this valve
prevents oil from cooling down and hardening as it flows out of the condenser, which causes clogs on older style systems. Connect this jacket to the recirculating heater on your condenser to keep the valve and oil warm, perfect for hot condenser tech.
Auxiliary Condenser is used with a recirculating chiller to condense volatile vapors before they reach the vacuum pump. Also equipped with channeled tubing and inner coil for increased surface area and condensing power, acts as an initial cold trap to further prevent contamination to your vacuum pump.
Double Wall Vacuum Trap With Baffles is a unique cold trap design that can be used with dry ice or an immersion chiller. This design features a one of a kind wall around the cold finger that forces volatile vapors down the length of the cold trap and back up again, essentially doubling its potential condensing power. Rings and baffles create extra surface area for added efficiency
In this kit:
Qty.
Item/Part
2
20L Round Bottom Flask with #85 flange, and angled neck
Lab Stand Set (Stand, Rotatable Clamp, Boss Head)
1
20L Gemstone Short Path Head
Lab Jack, Stainess Steel 10x10
1
Bullseye Precision Vacuum Gauge with 536 KF-25 Sensor
Lab Jack, Stainess Steel 8x8
1
Digital Heating Mantles  20 Liter
Lab Stand Set (for Vacuum Traps/Chromatography Columns)
1
Digital Thermometer Kangaroo
LVP High Vacuum Grease, 0.5oz
1
Double Wall Dewar Vacuum Trap with Ring Baffles 45/50 29/42
Glass Pennyhead Stopper 34/45
1
Gemstone Series Auxiliary Condenser 45/50 (in/out
Glass Pennyhead Stopper 24/40
1
Glass Elbow Adapter 90° Bend 45/50
Jacketed Pistol Receiver #45
1
Jacketed Receiver Bottle 2L 34/45
Plastic Flask Stand 160mm (3-Pack)
1
Keck Clip, Metal #24 (2-Pack)
PTFE boiling flask sealing adapter #85
1
Keck Clip, Metal #34 (2-Pack)
PTFE Egg-Shaped Stir Bar 70mm (2-Pack)
1
Keck Clip, Metal #45 (2-Pack)
PTFE KF to Male Glass Joint Adapter KF-40 45/50
1
Keck Clip, Plastic #45 (5-Pack)
Single Neck Round Bottom Flask, 10L 34/45
1
KF-40 3-Way Tee
Single Neck Round Bottom Flask, 5L 34/45
1
KF-40 Centering Ring, SS304
Single Neck Round Bottom Flask, 2L 29/42
1
KF-40 Clamp
Stainless Steel Bellow Hose KF-40 - 40''
1
KF-40 Elbow, 90 Degrees
Center Neck Boiling Flask Thermowell, 24/40 20L
1
KF-25 High Vacuum Manual Angled Valve w/ Thick Bellows
Viton Tubing 3/8'' ID x 9/16'' OD  10' Length
Custom options available; change joint sizes, design condensers, and create manifolds that perfectly fit your facility. 
Our in house, USA based glassblowing studio allows for quick turn around time on custom orders and repairs. 
Call us with any customization requests. (510)487-1390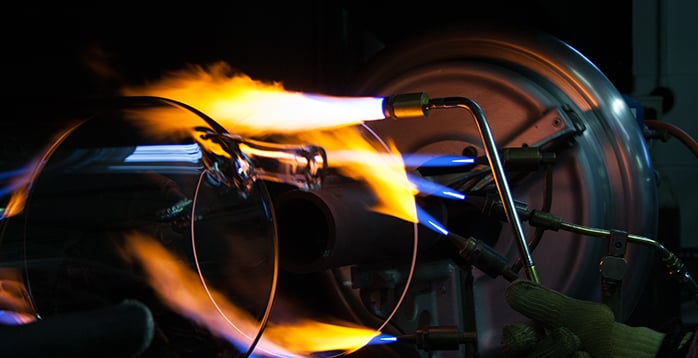 *Kit still requires vacuum manifold, vacuum pump, along with a chiller and heater, contact us for help selecting the best equipment for this short path system* 
[email protected] | (510)487-1390