A Rotor Stator Homogenizer is a piece of lab equipment designed to disperse media evenly throughout a sample. This can be liquid media, abrasive media, or viscous media. Depending on the application you plan to use the equipment for, will decide what shaft you will need.
For starters, each of our shafts require two specific tools for installation and maintenance. The shafts must be cleaned after every day of use by using the universal rotor wrench to open up the equipment. See our cleaning guide: Here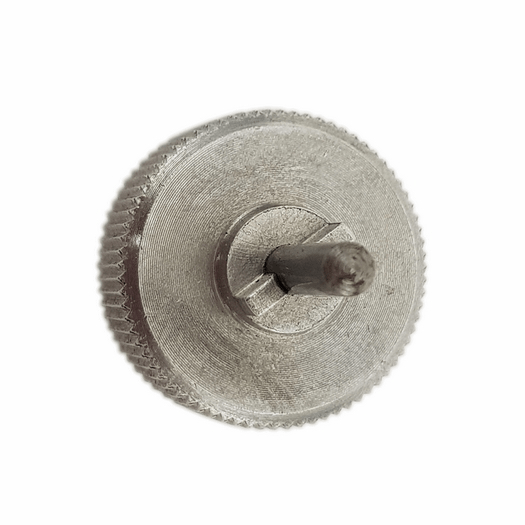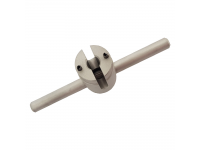 What is a homogenizer shaft?
Based on what homogenizer generator you have, you will need a particular shaft, usually from the same manufacturer. Homogenizer shafts will be made for their brand and do not fit into different units, keep this in mind when purchasing your equipment.
When using a rotor stator homogenizer, the shaft consists of a blade for shearing, and a stator for even dispersal. What many people do not know about homogenizer shafts is that they are made for different viscosities and volumes. A shaft for water based liquid will not work for a sample of bones or thicker samples that require more force. You can probably use the same generator but must change the shafts out for different samples.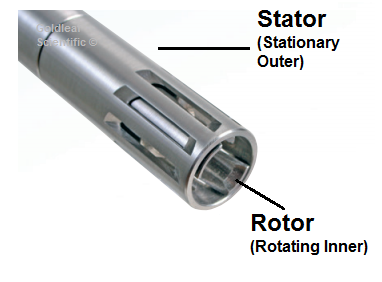 What is a homogenizer shaft used for?
A shaft is an interchangeable item you add to the generator based on the application that is required. For example, a unit with a neutral shaft can work fine for liquids but this type of shaft must be replaced for thicker solutions. Proper homogenization can be achieved based on the proper shaft that you choose.
What kinds of homogenizer shafts are there?
At Goldleaf, we carry four types of shafts for our homogenizers;
Fine (F) Shaft - For water based samples or other thin liquids
Neutral (N) Shaft- For thinner oils emulsions
Viscous (V) Shaft - For thicker, heavier oils
Knife (M) Shaft - For breaking up solid particles
The T-Attribute for each shaft description is for the length of the shaft and thus the quantities that can be mixed.
These items can be interchanged and can be used for a couple different applications. For example, the (V) shaft is for thicker oils like glycerin, but can also be used in place of an (N) shaft, used for thinner oils like vegetable oil.
Each classification of shafts will also have specs for the volume or amount of solution it can homogenize at a time, based on the length of the shaft. A neutral (N) shaft can work for a quantity of up to 20,000mLs. These measurements are often based off of thin liquids like water based samples. Even the Viscous (V) shaft is rated for 20L at a time but only for thinner solutions, when homogenizing thicker oils a (V) shaft can do at most 1.5 - 2L at a time. This is true across the bored for each different type of shaft, the thicker the sample, the less the shaft can handle at a time.
Do not let this discourage you from the purchase of a unit as the mixing process only takes about 30 seconds to 1 minute. The shafts operate at a very high rpm so it does not take long to mix even the max amount of solution.
Be sure to compare the viscosities abilities and quantities of the shaft you are looking at to decide what will work for you. Homogenizer generator shafts are simple when all of the information is available, do not be afraid to contact us with any questions.
What are the applications for homogenizer shafts?
The type of homogenizer shafts required for your sample viscosity and size will decide what a user can do with the product. These details are very straight forward, the user just needs to know how thick their sample will be and how much they want to mix at a time. Shafts are designed to quickly mix the proper size and type of sample.
Fine (F) type is good for things like beverages, tinctures, or other thin liquids. (500ml - 20L based on shaft size and generator)
Neutral (N) type is good for oils slightly thicker than water like vegetable oil consistency (500ml - 20L based on size and generator)
Viscous (V) type is good for thicker oils like glycerin or distillate, but can also be used for thinner solutions like beverages and thinner oils
(500ml - 20L based on size and generator)
Knife (M) type is good for breaking down solid particles like bones or cell
(500ml - 20L based on size and generator)
If you are still unsure about which product type is best, feel free to give us a call to place an order. We will figure out the best shaft type for your application. Compare our prices to similar rotor stator homogenizers, we are confident we have the lowest pricing available for this quality for homogenizer. A homogenizer set up usually ships within 1-2 weeks based on availability.
Other blogs on Homogenizers:
Guide to Rotor Stator Homogenizers
Homogenizer Use For Thick Oils