Overall general buying guide when shopping for overhead stirrers and how they compare to other mixing options.
Overhead stirrer -  
Product Listing: https://www.goldleaflabs.com/heating-and-mixing/overhead-stirrer/
Lab mixers can be made up of a simple setup, an option is something such as a magnetic stir bar and a beaker on a stir plate. These options are good enough to perform general purpose mixing tasks. But other mixing needs may demand a stronger, more efficient form of mixing technology. If you are looking to purchase an overhead stirrer, Goldleaf can help. 
Harder To Mix
Solutions involving immiscible ingredients are more difficult and take more time to mix, which are best performed using a stronger piece of equipment like an overhead stirrer.
These powders that are harder to mix may clump and begin to form aggregates, even other shapes, such as "fish eyes," rather than be thoroughly dispersed in the solution.
Using carefully designed rotor-stator technology along with high rpm stirring, an overhead stirrer, is much better at liquid handling with high viscosities.
A Better Solution
Overhead stirrers are best for solutions that are high viscosity and need rapid mixing at a reasonable time.
When the goal is total dispersion of ingredients that are hard to mix, using an overhead stirrer can be much better than relying on a magnetic stir plate. Should the rotor stator unit feature variable speed control, that makes it all the better.
Modern Technology
Dispersion of challenging ingredients including dry powders that must be mixed into liquids require modern technology capable of efficiently dispersing these compounds.
True Dispersion
Dispersion is when particles of a single material are dispersed continuously throughout another material.
In order to achieve complete dispersion, particles must be relatively a uniform size and evenly distribute through the liquid in a continuous phase.
When A High Performance Overhead Stirrer is Needed
First the features and benefits of an overhead stirrer must be understood when determining your purchasing requirements. This includes four considerations key to this equipment which all must be considered together:
-speed of mixing
-power of the motor
-capabilities of processing
-control functions that are programmable
Do not spend money on overhead stirrers if you are not positive it can perform the job needed.
Lab workers involved in R&D research along with production in pilot plant activities should work with their purchasing departments in order to find it necessary the need for importance options when shopping for overhead stirrers.  
This article was written to assist as you search for an overhead lab stirrer. These are the main points covered you must consider:
- speed ranges
- max capacity of stirring vessel
- configurations of stirring tools
- viscosity capabilities
- important features for safety
Do you Need an Overhead Lab Stirrer?
For certain production operations, it is likely that yes, you do need to purchase an overhead lab stirrer. Depending on the application there are key performance differences that must be considered for overhead stirrers.
Overhead or Magnetic Stir Plate
Overhead stirrers use a motor driven impeller for stirring, while magnetic stirrers utilize a magnetic bar at the bottom of the beaker, flask, or other stirring vessel.
For a stir plate, the container sits on a flat plate that conceals a motor powered magnetic that rotates and controllable speeds. The magnet causes the bar to rotate and begin stirring. Hotplate stirrers usually provide a temperature controller to heat the plate as well.
Mechanically Driven Force
Since there is no solid connection between the motor powered magnet rotating under the plate and the stir bar in the container, these units are not ideal when using high viscosities. Such as making distillate and terpene products, commonly used in a vape cart, that are very thick even at high temperatures. Since the shaft is directly connected to the motor, overhead stirrers are significantly more powerful than magnetic stirrers.
Specific Considerations When Selecting Overhead Stirrers
Keep in mind that overhead stirrers do not come equipped with a hotplate out of the box.
However, opposed to magnetic stirrers, overhead stirrers are able to process much larger volume mixtures with higher viscosities.
Overhead stirrers, also known as overhead mixers, offered by Goldleaf Scientific are precision instruments that feature microprocessor controls allowing researchers to easily control stirring speed in smooth increments.  Here is a brief list of features you need to consider when searching for an overhead stirrer.
-Automatic shutdown.
This first feature is an essential option as it protects your financial investment into an overhead stirrer in case there is an increase in viscosity that overloads the drive motor causing it to overheat. Some of the higher end models will automatically slow the stirring speed when the torque taken from the motor shaft is not able to hold the speed that was programmed.
-Soft start and Soft stop.  
Slowly begins and ends stirring process to prevent splashing at a high speed.
-Sample size Capabilities  
Knowing your sample sizes will help determine the motor needed. Capacities are typically 35, 100, 150 and 200 liters.
-Stirring speed Range
Stirring speed can vary by model. RPM speed ranges from 50-500, 30-2000, 40-2,000 and 20-700.  Even higher speeds are optional on some models.
-Stirring timer.
Program a timer to determine when the stirrer should shut off.
-Potential Torque energy.
Measured as Ncm (Newton centimeter).  A unit with higher the torque energy means the more torque it can be applied.
-Viscosity  
Make sure the unit you select can handle the maximum viscosity of your sample.
Goldleaf Scientific's R100CT Overhead Stirrer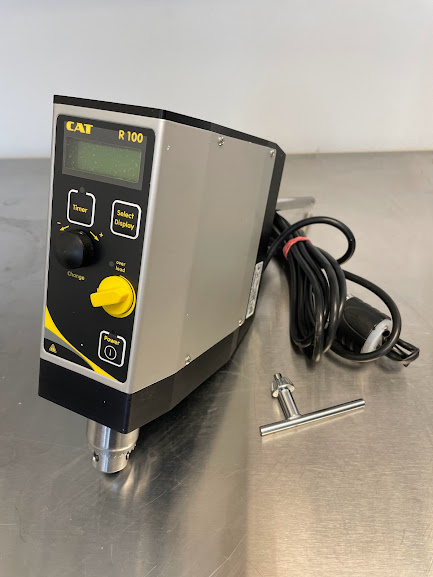 Goldleafs R100CT overhead stirrer is a high quality, high performing unit in laboratory equipment that is designed to be used in chemical or biological laboratories, universities, and pharmacies. This unit can be used for processing samples at a maximum of 200 liters.
This overhead stirrer is very powerful and includes a mounting stand along with a silent-drive 220-watt high-performance motor that providing up to 600 Ncm torque energy to process medium to high viscous solutions (10,000 to 100,000 mPa.s).
Stirring speed is visible on the digital display and can be easily controlled between 50 and 500 rpm.  The soft start and stop features keeps our samples from splashing out of the container.
The Load LED will light up if the stirrer is not able to hold the set motor speed due to too much torque. With this condition set the unit will reduce the speed of the motor to prevent burning out the motor by surpassing the approved torque specifications. The unit will shut down if the impeller is obstructed and blocked.
-The display shows all data systems such as speed, torque, time and power output.
-Accessing this information by pressing the panel's display select button to switch between different functions.
As always, perform standard safety procedures when operating one of these units. Ppe supplies and equipment should always be used in the lab to protect from splashing due to mixing or boiling. Gloves, goggles, and masks should be in use and worn when needed.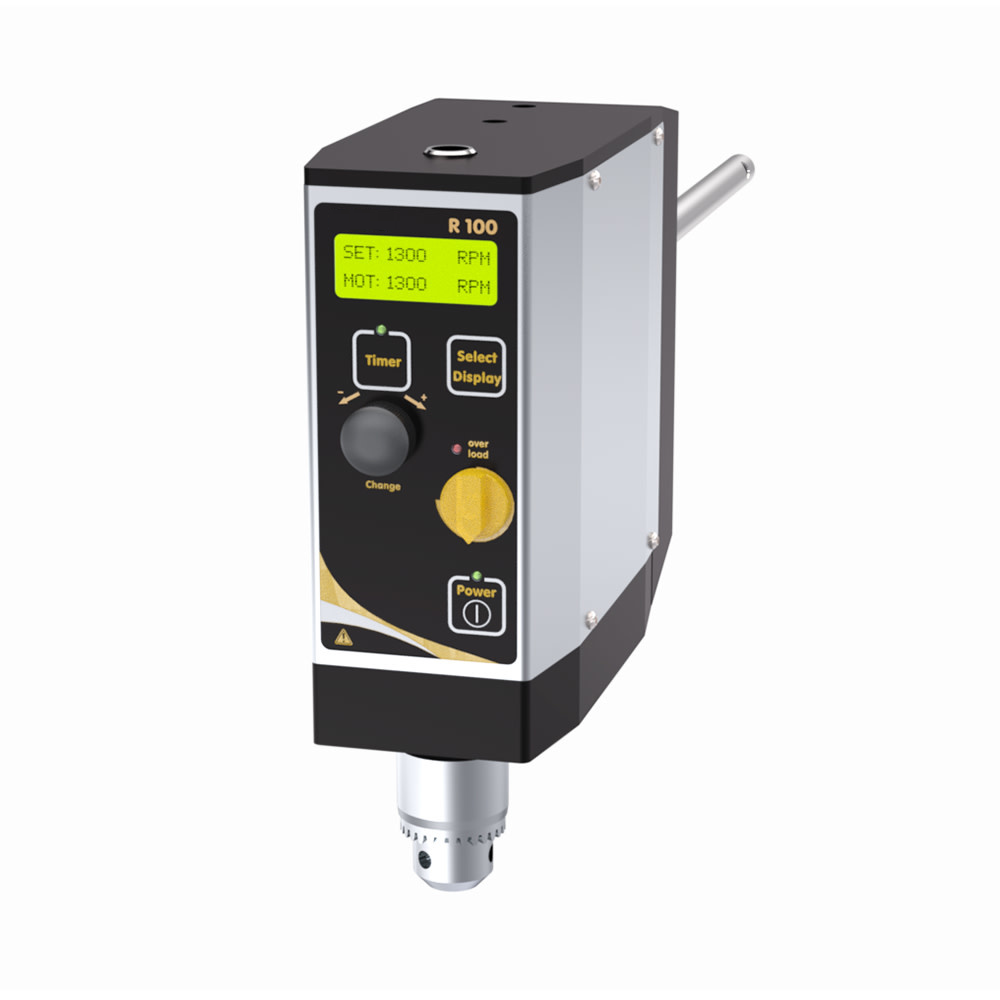 Goldleaf Scientific
If you would like to purchase an overhead stirrer and have any questions feel free to call us at (510)487-1390 or send an email to [email protected]. Our store carries a variety of products to choose from and accessories to give you the best experience possible. We will take the time to find the best option based on your requirements and get you the right tools to use. It is our specialty to provide quality equipment and information.
Create an account on our website to discover and be updates on new articles, products, and releases.